https://www.strike.com.au/blogs/news/iphone-15-rumours-release-date-and-more
Hello, Apple lovers, you're curious about the difference between the iPhone 14 and the iPhone 15. This is exciting news for you, apple is going to release its most-loved phone "the iPhone 15" on the 22nd of September in all the stores.
In this blog, we'll explore the exciting new features and advancements that Apple has packed into the iPhone 14 and iPhone 15 models. This year they are releasing 4 different products. iPhone 15, iPhone 15 Plus, iPhone 15 Pro and 15 Pro Max. You can easily book a preorder by using this link. Let's dive into more details on price, colors, speed, camera, and storage.
iPhone 15 Release date in Australia:
Apple announced on 30 August that the iPhone pre-orders will go live on 15 September and we can officially see the product in Apple stores from 22 September.
Price Comparision:
Last year Apple offered the iPhone 14 128 GB for AU $1,399, the iPhone 14 Plus 128GB for $1,579, the 14 Pro 128GB for $1,749, and the 14 Pro Max 128GB for $1,899.
But for this year Apple's iPhone 15 128GB will cost you $1499 also the iPhone 15 Plus 128 GB cost you $1649. These prices are from pre-sale value, they might differ when resealed to stores.
According to  Macworld, Apple might try to justify a $200 increase to the iPhone 15 Pro Max and possibly $100 for the iPhone 15 Pro. It could potentially cut the price of the base model and iPhone 15 Plus by $50.
Storage Comparision:
As you know the iPhone 14 series comes with 128GB, 256 GB, 512 GB, and 1 TB. According to Grapevine, the iPhone 15 Pro and iPhone 15 Pro Max will reportedly get a new storage capacity of 2TB. however, 15 Pro will not offer 128GB devices.
Display Comparision:
There will be a slight change in display. I have mentioned more about the display in the picture.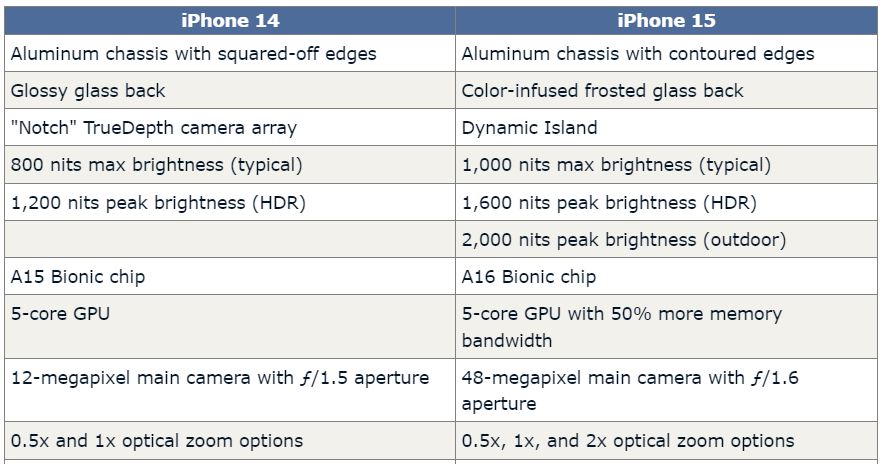 Camera Comparision:
If you are looking for the best camera, the iPhone 15 is the clear winner. Apple upgraded its main camera lens to a new 48-megapixel sensor. Plus, you can use the middle 12MP of the sensor for zooming in without losing quality, which is a very useful feature to have. Likewise, you will get an improved 12 MP ultra-wide camera, better portrait modes, and 4K cinematic mode.
Meanwhile, the iPhone 14 has a basic camera setup like 13 and 12. It has a 12MP main camera and a 12MP ultra-wide, both of which were carried over from the iPhone 13, so they're getting a little old. Photo and video quality is reliably good
As for the best photography and videography experience, it is better to have an iPhone 15.
Battery Comparision:
Previously, the 14 Pro max offers a video playback time of up to 29 hours also 14 Pro can go up to 23 hours. In addition, apple confirmed that the batteries will last longer in the 15 series. Both of the pro series will get the benefits of the A17 Bionic chip. All the latest Apple phones will have USB-C cable chargers.
Conclusion:
Equally iPhone 14 and iPhone 15 both share a lot of similarities and are a great choice no matter which one you buy. The iPhone 14 has also been selected as the best smartphone device ever since it was released.
As always, though, the question is which one is right for you? If you want to upgrade yourself with the latest technology then go for iPhone 15. It offers you an upgraded processor, a quality zoom-in camera, and Dynamic Island.
Finally, if you only need a reliable smartphone iPhone 14 is a great option. It is slightly cheaper than the newer model 15. They are one year older and still very good devices. But the iPhone 15 has a wide range of updates that would be better and useful over time.