https://www.theedigital.com/blog/things-every-business-website-should-have
Whether you are a freelance photographer, Bolg writer, own a hardware store, or have another type of small business, a great website is essential for your company success.
If you want to build a new website for your start-up or make effective changes to your
existing website then you can follow these 10 steps described below to get started and hence
let your business make a significant place in the online marketplace domain.
Find a good domain name
It is important to make the first impression on quality and standards. Your website address or your domain name to be specific acts as the entry point for your business website. It is therefore very important that it forms a good impression for navigation, usability, and reliability purposes along with search engine optimization (SEO).

Try to find a domain name that is unique but also easy to spell and remember. Try not to use slang, made-up, or extremely esoteric words. Keep your domain name as short as possible because the shorter the name is the easier it will be to remember it and type it in a correct manner.
Always make sure to use a proper domain extension. In other words if applicable only use .com extensions unless otherwise required to use other extensions like .gov, .edu or .org etcetera.
It is mostly the best option to avoid numbers, hyphens, or special characters in your
domain name as these make the name hard to remember or memorize. Moreover, they make the names look less elegant plus harder to vocalize than using one-word or easy domain names.
It is an excellent idea to keep the name of your domain in light of a broader purpose. For example, Amazon.com is a much larger and broader domain name than BooksOnline.Com. This now enables Amazon to sell pretty much everything rather than just specifically books.

Next step is to purchase secure, scalable website hosting with good tech support. A website host is a company that offers the technology and services necessary for a website to be viewed on the Internet. You connect your domain name to your hosting provider so that when users visit your website address, they are shown the website that you store on your hosting account. Hosting services can cost anywhere between $2 to $100+ per month. Here is a list of some of the popular website hosting organizations: GoDaddy, DreamHost, Bluehost, Hostpapa, etc.
Show a prominent display with a clear and concise description of your business: It is important that you let people know, and make them aware of your business and the type of work you do right away. This makes them certain and avoids any confusion. Try to include as many images on your profile homepage to give people a better understanding of your work and the services you provide.
Moreover, make sure that you provide a small description somewhere on the home page itself in addition to the images of the work. Additionally, make sure both your main and footer navigation menus have "About Us" page links accessible so people can click them and read more about your business in depth.
Implement the best content management system. A CMS also known as a content management system is software that is brought about in use to manage and create digital content. A good CMS software can prove to be a major help in maintaining your site with a major advantage of it being that you don't need to have a great deal of technical knowledge to use it.
Choose a good e-commerce platform, If your plan is to sell goods or services through your online platform it is important that you choose the right technology and platform to do so. If you decide to allow users to financially transact with you online, you will need to choose the right platform for your business model.
7. Make it an important detail to create an interesting, memorable, and engaging website
user interface. Make sure your website's interface leaves a positive impression on people which will hence help you retrieve positive results. It can be done by implementing the following suggestions:
Use graphics that are easy to use and fonts that are easy to read.
Make sure that the graphics you use in your website are compressed, easy to load, and optimized for fast-loading processes. If your website is slow in its work then search engines like Google can penalize your ranking.
Research the competition to see how they have designed and optimized their websites; implement similar components that will work for your small business website. Research your target audience to see what they want from your site and make it easy for them to accomplish it.
Navigation plays a very important role. A site where the users can easily navigate and find what they want without having to look much has the ability to yield far better results than a website wherein the user has to search through 100 criteria to find that one product or information.
Make sure to publish easily accessible contact information. Incorporate obvious call-to-actions (especially "buy now" buttons). Create standard pages like Home, About Us, Products/Services (with images and descriptions), Sitemap (for proper SEO purposes), Contact Us, and Terms of Use (a contract that will help govern the facts as to how users can use the site), and Privacy policy.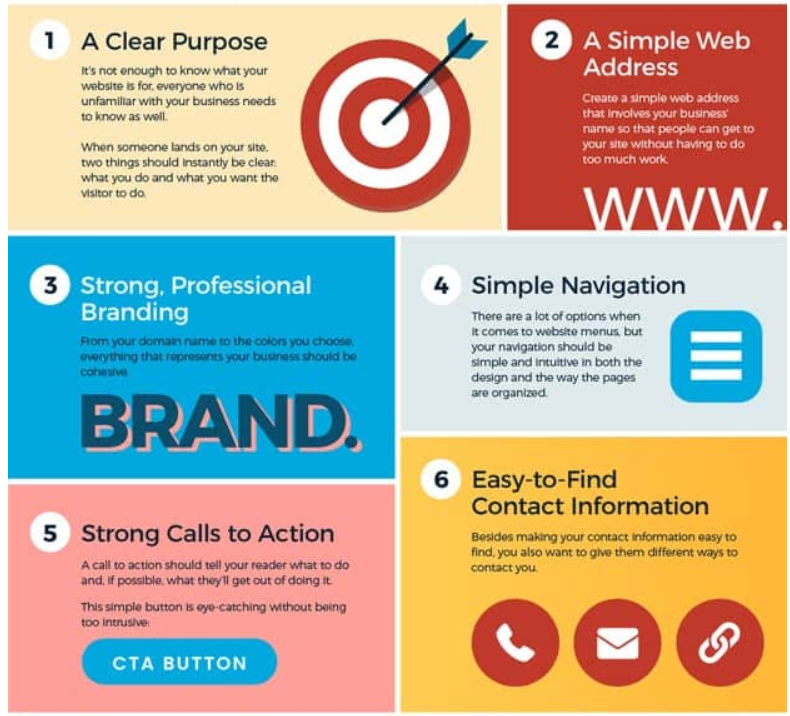 Optimize your small business website for search engines
SEO is a set of practices you apply to your website to ensure search engines index and rank your website appropriately and then show it to search engine users. The better your website's quality the higher will the website will be shown on the search engine's result pages.
Regularly create and publish quality content
Your content's quantity, relevance, and freshness play a very important role in the search engine optimization process therefore it's important that you create a plan to publish quality articles or blog posts on your site and on external sites that link to your site.
Install webmaster tools
Make sure you use vital data to help you analyze traffic and site performance by installing Google Analytics and Google Search Console (prefer both via Google Tag Manager), Bing, Webmaster Tools etcetera. These tools are used to calculate the daily, weekly, and monthly visitors.

Implementation of a website maintenance plan: Your website as mentioned should never go stale. After all, why do you only have to go through so much and create a website if you only want it to be left out once made? For you to have a website that doesn't get hacked and also has a high search engine ranking you have to make sure that the site is being properly valued and maintained.
Conclusion
In order to encapsulate after reading this article; it can be asserted that creating a website all in all is not an easy task as much as it may seem or maybe you first thought. There is a lot of time and effort that goes into making, creating and building a website. However, if the steps lists above are thoroughly followed then you may have a high chance of succeeding in online marketplace with your content and ranking.