Welcome to the new financial technology, where digital cryptocurrency and blockchain technology are changing traditional financial systems. Cryptocurrency serves as a medium of exchange, a store of value, and a unit of measure. In term of today's world It has little useuable value but it is used to price the value of other assets. 
Bitcoin was the first digital asset launched in 2009. Blockchain, on the other hand, is a decentralized ledger of all transactions across a peer-to-peer network. It allows participants to confirm transactions without a need for a central clearing authority. In this blog, we will go more deeply into blockchain technology, cryptocurrency, and bitcoin.
How Does a Blockchain Work?
A blockchain is somewhat similar to a database where information is entered and stored. However, the key difference between a traditional database or spreadsheet and a blockchain is how the data is structured and accessed. It consists of a program called scripts that conducts the tasks you usually do in a database.
The blockchain collects transaction information and enters it into a block, like a cell in a spreadsheet containing information. Once it is full, the information is run through an encryption algorithm, which creates a hexadecimal number called the hash. Since all the records are encrypted, any changes are recognized by the network.
The hash is then entered into the following block header and encrypted with the other information in the block. This creates a series of blocks that are linked together via cryptography. These blocks are chained permanently.
In the Transaction process, all blockchains have their own specific process. I have mentioned the process for Bitcoin's transaction in bitcoin blockchain,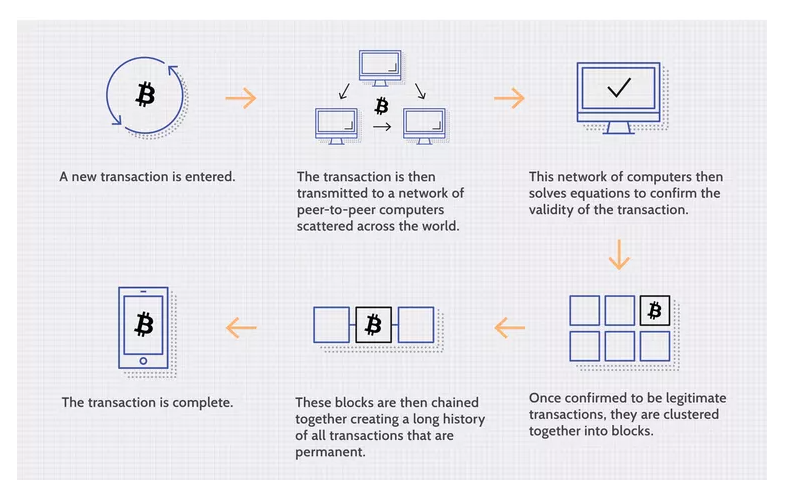 https://www.investopedia.com/terms/b/blockchain.asp
Once a block is closed, a transaction is complete. But for confirmation, the other five blocks must verify the data. It usually takes 10 minutes for each block. Not all the blockchains have the same procedure.
Overall, blockchain technology has vast potential to transform the way we think about financial transactions and money. We are in the initial phases of blockchain and cryptocurrency. This technology is still new in the market. We will see the huge impact in near future. Whether you're a big believer in Bitcoin or just curious about how the technology works, it's an exciting time to be part of this rapidly evolving technology.
Decentralization and security of Bitcoin
Before bitcoin, people used to rely on third-party like banks and financial organizations, that kept a record of who owned how much money. But nowadays, Blockchain technologies like Bitcoin, Ethereum, Solana etc. completely change the game. It decentralizes the control, meaning there is no need for a central governing body or a trusted third party to verify transactions.
The blockchain is a distributed ledger(Means data can be accessed and recorded at the same time in different places) that underlies Bitcoin. It's made up of blocks that are used to store verified transactions. A block consists of a group of Bitcoin transactions that occurred during a specific period. These blocks are later linked together, creating an permanent chain of transactions. Once a block is added, it becomes unmodifiable. This ensures each transaction is more secure over time, and can't be altered.
The security and immutability of the Bitcoin blockchain are among the most significant benefits of the system. The blockchain utilizes advanced cryptography techniques, making it virtually impossible for hackers to modify or decrypt transactions.
In summary, the decentralization and security of Bitcoin is so secured and it isn't influenced by any singular governing body or institution. As a result, it provides a secure system for verifying, storing, and transferring digital assets without requiring any centralized organizations.
Blockchain use cases in banking and finance:
International Payments: There would be no middleman to authorize the transaction. Blockchain can be used as a payment process. It is open and any person can look at transaction details. It is a more efficient and cheaper payment internationally.
Trade/Finance: Blockchain has the ability to deal with a large number of variables and high volumes of trade finance deals and simplify the process across borders. So it has huge potential to adapt to the economic market.
Auditing: The extremely secure nature of blockchain makes it rather useful for accounting and auditing because it significantly decreases the possibility of human error and ensures the integrity of the records.
P2P transactions: With the help of blockchain technology one person is easily able to send the data, and money to another person. They can send the money anywhere around the world.
Healthcare: Health information of a person like age, gender, and medical history can be stored on a shared blockchain that can be accessed anywhere with the help of their own private key.
Cybersecurity: The biggest advantage of blockchain in cybersecurity is that it removes the risk of a single point of failure. Blockchain tech also provides end-to-end encryption and privacy.
Conclusion:
Remember, decentralized control, extra layer of security, and efficiency are just the beginning of bitcoin. cryptocurrency have the potential for widespread adoption all around the world, we have not seen the future result of blockchain yet. Keep an eye on the latest and the newest Blockchain technology for better knowledge.