Introduction:
In this modern world, almost everyone is familiar with computers and technology and the number of users is increasing daily. The amount of data we generate increases rapidly, and choosing the right storage device is becoming increasingly important. Up to this time, we have Solid State Drives (SSD) and Hard Disk Drives (HDD). Each of these has their own advantages and disadvantages. In this blog, we will go deeper into each of the topics.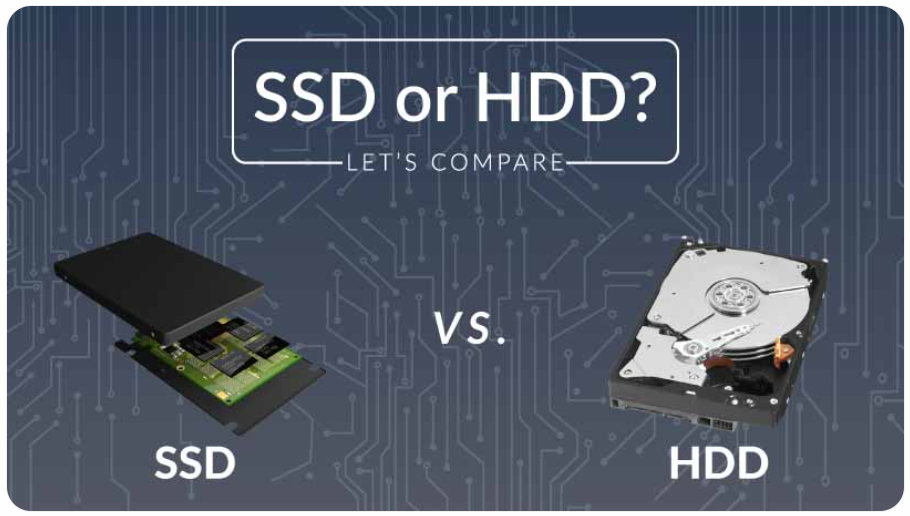 Comparison between SSD and HDD
As of simple definition, SSDs are faster, reliable, and consume less energy while HDDs offer more storage capacity and easier data recovery if damaged. Both storage devices have been on the market for a very long time. they are a significant part of modern technology, from our smartphones to our data centers. We'll explore the history and significance of SSDs and HDDs, their functioning, and which one to choose for your needs.
If you want to choose between SSD or HDD, let's talk more about the costs, reliability, and advantages.
SSD: The faster and more reliable options
So what is SSD? Solid State Drive is a non-volatile storage media. SSDs are flash devices that connect via Serial Advanced Technology Attachment (SATA) or serial-attached SCSI (SAS) and provide a cost-effective first step into the solid-state world. Which stores data electronically on 'cells', which makes data access quicker.
SSDs are faster, more durable, and consume less energy than their HDD counterparts. But how do SSDs work? In simple terms, SSDs use NAND-based flash memory to store and retrieve data. NAND memory is a block-addressable memory, which means that these memories can be programmed in blocks. SSD has no moving parts so it is more reliable and faster than HDD.
Another benefit of SSD over HDD. Firstly, SSDs offer better shock resistance and are more durable when you are on the go. In contrast, HDDs can skip or even fail if they are handled roughly or dropped. it consumes less power so the battery can last long and increase the battery life.
Finally, SSD has no moving parts so it does not produce any sounds. SSDs are quieter than HDDs, which is beneficial if silence is a priority.
HDDs: The More Affordable and Spacious Option
HDDs have been around for a while and are a proven technology. They are frequently less expensive than SSDs while offering more storage space for the same amount of money. They are suitable for people who need a lot of storage space but don't want to spend too much.
But how do HDDs work? An HDD enclosure contains a series of platters covered by a ferromagnetic coating. The direction of the magnetization represents the individual bits. Data is written and read by a fast-moving head, similar to the way vinyl record albums work.
The disk spins at 7200 RPMs so data is accessed from wherever the read/write head is currently positioned. HDDs rely on mechanical parts to locate and retrieve data, As a result, they may not have the same level of performance as SSDs.
However, HDDs do have other advantages that make them a solid option for storing your data. For one, they are more affordable and available at much higher storage capacities, compared to SSDs.
Speed Comparision

From the above table, you can clearly see the speed difference between SSD and HDD. SSD is faster in reading and writing data and it offers maximum capacity only up to 4 TB. But HDD can offer up to 14 TB of data.
Which one to choose SSD or HDD
As of the above pieces of knowledge, we can figure out that if someone wants a larger storage space and does not want to pay too much money he can choose an HDD. Here is the simple logical difference between SSD and HDD.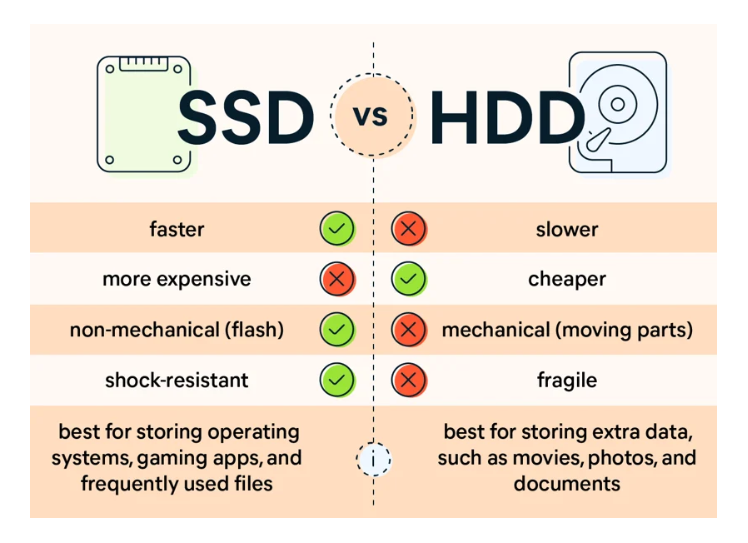 Quick and easy Difference between SSD and HDD.
Use Case Scenarios:
When to Choose SSD or HDD? If price is the driving factor, or if you need a lot of storage capacity and aren't too worried about speed, then HDD is the better choice.
In contrast, if speed is critical for your work or you are looking for a portable storage solution then SSD is the winner. It is also the best option for those who are constantly transferring large amounts of data, like photographers and video editors.
Summary and Conclusion
To sum up, SSDs and HDDs are both storage devices that have different strengths and weaknesses. If speed and durability are your top priority, SSD is the way to go. If you need a lot of storage capacity at a lower price point, then HDD is the obvious choice. Ultimately, the decision between the two comes down to your individual needs and budget.