A smart home refers to a residence that utilizes technology to automate and remotely control various functions, such as lighting, heating, and cooling, security, and entertainment systems. This is achieved through the use of internet-connected devices, such as smart speakers, sensors, and mobile devices.
Smart homes work by connecting these devices to a central hub or a home automation system. This system receives commands from the connected devices and sends signals to the various home systems, such as lighting and heating, to execute the desired actions.
What makes a smart home smart is the ability to automate and remotely control various systems and functions, as well as the ability to gather data and analyze it to improve the overall functionality and comfort of the home. Additionally, smart homes often allow for integration with other smart devices and systems, such as smart appliances and energy management systems, further increasing the level of automation and control.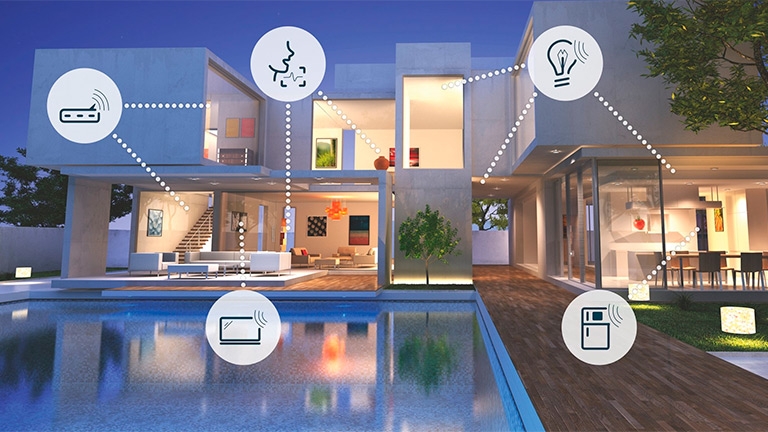 The integration of advanced technology in smart homes not only improves convenience and comfort but also helps to increase energy efficiency and reduce waste. For example, smart thermostats can automatically adjust heating and cooling systems based on the homeowner's habits and preferences, reducing energy waste and saving money on energy bills.
In summary, a smart home is a home equipped with technology that allows for remote control and automation of various systems and functions, making it a more comfortable, convenient, and efficient living space.
Advantages of Smart Homes:
Increased convenience: Smart homes offer a high level of convenience and comfort to the residents by allowing them to control various devices and appliances remotely using their smartphones or other smart devices.
Energy Efficiency: With features such as smart thermostats and smart lighting systems, smart homes allow residents to conserve energy and reduce their energy bills.
Improved Security: Smart homes are equipped with a range of security features such as smart locks, cameras, and alarms that make it easier to keep an eye on the home and protect it against intrusions.
Enhanced Home Monitoring: Smart homes allow residents to monitor the conditions of their homes remotely and receive notifications about any potential issues such as leaks, temperature changes, and so on.
Personalized Experience: Smart homes are designed to be customized and tailored to the needs and preferences of their residents. With the use of voice assistants and other smart technologies, residents can create an experience that suits their lifestyles.
Disadvantages of Smart Homes:
High Cost: One of the biggest disadvantages of smart homes is that they can be expensive to set up and maintain. The cost of the technology and devices can be a barrier for many people.
Technical Complexity: Smart homes require a significant amount of technical expertise to set up and maintain. This can be a challenge for people who are not tech-savvy or those who are not familiar with home automation systems.
Cybersecurity Concerns: As with all connected devices, smart homes are vulnerable to cyber threats and hacking attacks. This means that residents must take steps to secure their smart homes to protect their personal and financial information.
Interoperability Issues: Another challenge with smart homes is that different devices and systems may not be compatible with each other, leading to issues with interoperability.
Dependence on Internet Connectivity: Smart homes rely on an internet connection to work, which means that if the internet goes down, the functionality of the home can be affected.
What if smart home is hacked?
Yes, a smart home can be hacked. The vulnerability of smart homes to hacking can have serious consequences for the residents of the home, including:
Security breach: A smart home is equipped with various connected devices, including security cameras, locks, and sensors, and if hacked, an intruder could potentially access the home's security systems and compromise the residents' safety.
Privacy violation: Hackers can also access sensitive personal information stored on the smart home system, such as credit card information, personal contacts, and online activities.
Disruption of daily life: A smart home system that has been hacked can cause inconvenience and disruption to the residents' daily lives by interfering with the functionality of connected devices and appliances.
Financial loss: If a hacker gains access to the residents' financial information stored on the smart home system, they could potentially cause financial losses through fraudulent activities.
It is important to take precautions to secure smart homes, such as regularly updating software and firmware, using strong passwords, and avoiding connecting to public Wi-Fi networks. Additionally, homeowners should consider investing in cybersecurity solutions, such as firewalls and anti-virus software, to help protect their smart homes against cyber threats.
Future of Smart Homes:
The future of smart homes is a rapidly growing and evolving field. With the advancement of technology and the increasing demand for automation and convenience, the smart home market is expected to grow significantly in the coming years.
One of the main trends in the future of smart homes is the integration of voice-controlled virtual assistants such as Amazon Alexa, Google Assistant, and Apple Siri. These virtual assistants allow homeowners to control their home with just their voice, making it easier to manage smart home devices and automate tasks.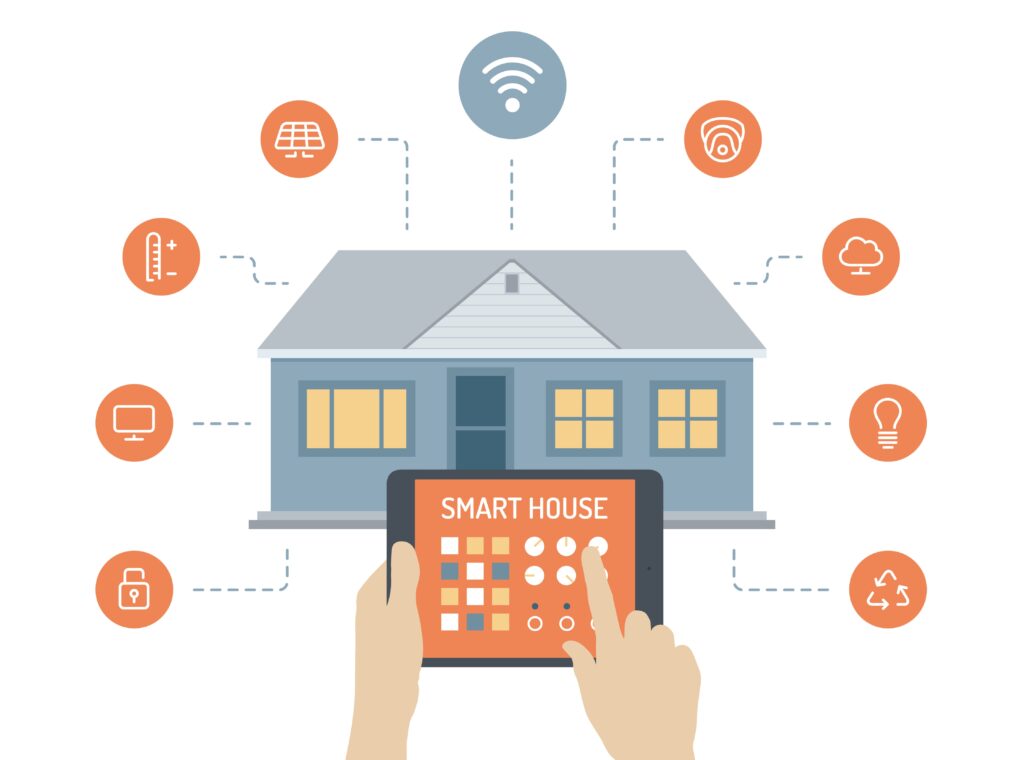 Another trend is the integration of smart home devices with smart home security systems. This integration provides homeowners with a comprehensive and connected security solution that can detect and respond to potential threats.
Smart homes of the future are also expected to become more energy efficient, with the use of smart appliances, lighting, and heating and cooling systems that can be controlled and monitored remotely. This not only saves energy and reduces costs, but also contributes to a more sustainable and eco-friendly future.
The internet of things (IoT) is also playing a significant role in the future of smart homes. The integration of IoT devices into smart homes allows for a seamless and interconnected experience, where devices can communicate and work together to provide a more automated and convenient living experience.
Additionally, advances in artificial intelligence (AI) and machine learning (ML) are expected to greatly enhance the capabilities of smart homes in the future. AI and ML algorithms will enable smart homes to learn and adapt to homeowners' habits and preferences, providing even more personalized and efficient experiences.
In conclusion, the future of smart homes is exciting and filled with potential. With the integration of cutting-edge technologies, smart homes are set to revolutionize the way we live, work, and interact with our homes.